Name: Ko Nobuyuki
Age: 16
Personality:
Ko is a happy individual. He doesn't take much for granted and will never turn anything down. He often accepts things from others even though he may not want it, because he is grateful. He even has a smile on it, and will repay the person for giving him something. In that case he always keeps a promise to people he promises without fail. Ko will try to help everyone he can even if it has no hope in helping someone. He does everything he does because he wants to and even before death he will have a smile on his face. He is a very skilled musician around school and around namimori for his piano playing.
Appearance: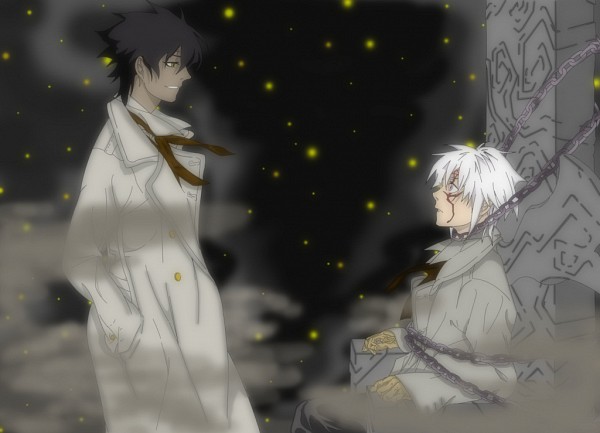 Ko on the right with white hair and for some random info if needed, the 5th gen rain guardian on the left.
Height: five foot eight
Weight: 130lps
Flame: Rain (later)
Family/Organization: Vongola (later)
Role: Rain Guardian (later)
History:
Ko was born inside Namimori to a fairly wealthy family. In fact his family was a mafia family that belonged to vongola. After Kos 7th birthday he was abducted from his yard and brutally tortured. They made a wound deep enough above his left eye of a star and a crocked line downing down past his eye it scared red. The vongola saved him years ago but at the cost of his mothers and fathers life. It was truly sad and Ko moved in with his aunt and uncle who took care of him until now. Hes currently doing good in school and is a very skilled piano player. It was said inside his torture he actually meet the 5th gen rain guardian. From that moment on the ring actually chose Ko to be the barer of this ring, but it also was said it wasn't a pleasant meeting.
Ring(s): Rain Guardian Ring (later)
All this will come later
Boxes/Box Rings:
Equipment:
Weapon(s):
Techniques: